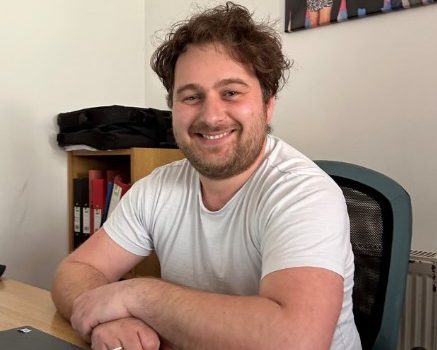 What is your role and what does it involve?
My role in Concept is a Project Coordinator/Associate. What that involves is coordinating the delivery of multiple projects that we have going on at any one time and making sure we get paid and agreeing the financials with the client, coordinating changes as the projects progress with the investigation supervisors or the designers, whoever involved and ensuring that we uphold and stick to our health and safety policy making sure that everyone's working safe and that the risks associated with the activities that we do get captured in the Rams and method statements that we work to, we then ensure that information from site is getting fed back to the production team and the reporting team in a timely manner so that we can get reports out and issued on time as well.
How long have you been working at Concept?
I joined concept in June 2016. Prior to that I was with Fugro Geo Services for five years and yeah so it's going on over five years now that I've been at Concept and it was best decision I ever made!
Can you describe your career journey so far?
So, my career started off as a graduate engineering geologist in 2012 when I graduated Uni and got my first job at Fugro. Working at Fugro I was able to get a lot of international and national experience in a quite quick time frame. I did a lot of overwater work and work abroad, what I did is got myself a lot of good experience that was very diverse but there came a point where a combination of things, got a bit tired of the travel and I felt like there was a bit of a glass ceiling at Fugro just because of the size of the company and too many people competing for spaces. Then I joined Concept primarily because I liked the size and I liked the location that they did their work in. When I left Fugro I was what they call a project engineer, and I was running projects on site and I was a site engineer. Basically, when I joined Concept, I joined them as an Engineering Geologist doing a similar job. What I found once I joined Concept was I was quickly able to climb the ladder because of the size of the company. What I was doing was getting noticed a lot more and good work was rewarded. I managed to shoot up and into sort of a Senior Project Engineer and then Project Coordinator and then Associate In the space of the five years I've been here.
How would you describe a typical day in your role?
I think my typical day is combination of planning as best as possible for the next day or the next few days, but then also reacting on the spot to changes that happen. Like I said, meetings that get arranged like with an hours notice to discuss something that happened like an emergency and you know immediately needs a quick resolution and and trying to jiggle the changes in the moment with what the original plan was, and if there is like a significant clash where there's a change that we can't react to immediately trying to communicate that across the company so that we can find a resolution as fast as possible, which isn't always possible, but we do our best.
What do you think have been your biggest achievements so far in your career?
I'm very proud of the work we've done on HS2, to be honest with you and the fact that it's gone on for so long. I was told that I was going to project manage the HS2 GI in 2018 and it's now 2023 and we're still doing it and the original contract was due to last one year. So, the fact that we've had that repeat and sort of business coming in over the course of five years is something I'm very proud of. We were actively on site when the pandemic hit and we had work planned in, we had to amend some things, safe working at distances and minimize crews to a certain size but we're able to continue. I'm also very proud of how I've been able to progress in Concept up until now and the speed with which I've done it. I feel like it's always been a very good fit for me in Concept and it's helped me sort of work effectively and shoot up the ladder.
What is your favourite part of your job?
My favourite part of the job is probably the satisfaction of problem solving really and also getting good feedback, you know, having good feedback for a job well done. Knowing that we made a bit of money, everyone walked away happy, and we were able to solve a problem that the clients had. You know, that's probably the most satisfying part of the job for me.
What advice would you give to someone taking their first steps in the industry?
Stick with it. Biggest advice I'd say is, you know, good things come to those who wait sort of thing. Good work will be rewarded in this industry and in this company. I can't speak for the industry on a whole, but with a company like Concept, I know that good reliable work gets rewarded. It might feel frustrating at times, it might feel that you're locked in at the spot that you're not particularly happy with but if you do well in that spot and you communicate what you want with the right people, you can go as far as you want really. I'd also say being good at communicating with people and you know building positive relationships not just internally but externally with clients and whoever we deal with, that reflects very well on you as an individual. So, if you can build good relationships with people I think that that's a good piece of advice as well.
What do you think are the biggest challenges within the industry and what can we do to change this in going forward?
I think over time, and we've experienced it a bit on HS2, is the environmental challenges i.e. trying to do the same sort of work but with less of an environmental footprint. that is going to be a challenge for the company in terms of having to adapt how we go about doing things, for example how the low emission zone is going to affect what vans can go in and out of London and around London on a daily basis and that's going to have a knock on effect for operational costs. So, investing in the right kind of plants and equipment is going to be key and maybe having the expectation that it's not going to pay off immediately. if you can be one of the leaders and get in there first, I think that's how it's going to pay off. Health and safety also gets more and more complicated over time. You know, we are working to a very high standard now and it's only going to get more scrutinized over time because it's a reactive system. So, continuing to try and make money in a world where you're having to jump over more hurdles and fall within sort of an environmental cap. It's gonna be a hard hard thing going forward for everyone.
What do you like to do outside of work?
Spending time with the family, you know, I like my sport, I like my football and I like my rugby and don't play it as much, but that takes up a lot of my time. Then just seeing my friends and I like going out for dinner, you know, going out to eat and drink.
What is a surprising fact that people might not know about you?
I'm going to be a dad in 2023!